Lake Nipigon Forest Management Inc.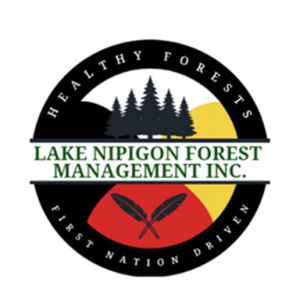 Papasay is a ¼ shareholder of Lake Nipigon Forest Management Inc. (LNFMI), the company that manages the Lake Nipigon Forest and has the Sustainable Forestry Licence for the unit. The economic development corporations of Red Rock Indian Band, Biinjitiwaabik Zaaging Anishinaabek and Animbiigoo Zaagi'igan Anishinaabek are the other 3 shareholders. There is a Board of Directors that meets quarterly to move the business of the forest forward. LNFMI forms agreements with the forestry companies, pays dividends to the First Nations, covers forest management fees and ensures that compliance matters.
LNFMI is a very well-run company, with high-level expertise from the GM down to all foresters. Opportunities are constantly made available to members of the 4 First Nations that are shareholders of the company, including in areas of manual tending, tree planting, and other types of silviculture work on the forest. The company has also committed to eliminating spraying from the Lake Nipigon Forest within 20 years time. The 4 shareholders also have a company, Four Nations Forestry, that provides additional employment opportunities for members of the communities, as well as revenue generation potential for the communities themselves.